As a Travel Advisor, Joshua Smith knows what it's like to help travelers maneuver through difficult situations, from pandemic restrictions to natural disasters and medical emergencies.
Those quick-thinking, problem-solving skills are coming in handy more often as travel professionals navigate turbulent times. Smith says his company, Global Citizen Journeys, has never been busier, both with clients seeking help with logistics as well as millennials craving unique adventures. His experiences are a microcosm of the trends emerging in the travel marketplace right now.
Turning to the pros in turbulent times
In this era of uncertainty, travelers are looking for stability. That's likely one of the reasons why travel advisor and travel management company bookings are projected to account for 32% of all air bookings by 2024, according to the US Travel Market Report. In addition, 44% of travelers say they're more likely to use a travel advisor after the pandemic, a study by the American Society of Travel Advisors (ASTA) found.
Google search trends offer a glimpse into travelers' top worries. After Russia invaded Ukraine, searches spiked for questions like "Is it safe to travel?" and "Should I travel to Europe?" Earlier in the pandemic, Google searches for "travel restrictions" skyrocketed.
"The number one thing is security," says Recep "Richie" Karaburun, a clinical assistant professor at New York University's School of Professional Studies Jonathan M. Tisch Center of Hospitality. "They actually want to book the trip and they want to feel secure doing it."
Before the pandemic, there was discussion about whether the travel advisory profession was fading away, but that conversation has completely changed, says Karaburun, a leading expert with two decades of experience in the travel industry. "People want to trust someone," he explains. "They want someone who knows the trends. The travel advisors are the experts and advocates for customers."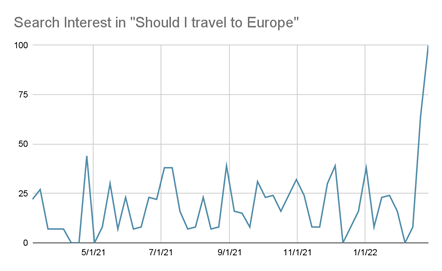 Source: Google Trends
In addition to providing a sense of stability, travel advisors build relationships with their customers. That personalized, custom travel experience is where Smith's Global Citizen Journeys excels.
"The value of relationships is the biggest reason why travelers should use travel advisors," Smith says. For example, Smith recently worked with clients who were interested in visiting Thailand, but he knew the requirements for entry were complicated, so he steered them to Colombia instead. Smith created a tailored Colombia trip based on their interests, and they raved about the unique experiences he curated.
Locating luxury and leisure
Relying on the expertise of a travel professional is, in itself, a form of luxury. Rather than scrolling through pages upon pages of online reviews to find the best hotel, Smith says he and his colleagues can recommend not just the best hotel in a particular city but the best room in that hotel. By drawing on their own experience as seasoned travelers, he adds, travel advisors can offer restaurant recommendations, suggest specific menu items and even share the best time of day to visit certain attractions.
That insider experience matters. More than half of travelers who have never used a travel advisor are more likely to use one if it means they have access to the travel advisor's special relationships and insider access, the ASTA study discovered.
Luxury clients tend to have high expectations, Karaburun says, and travel advisors are wise to understand that. For instance, he says, a luxury traveler who doesn't like their room is likely to call their travel agent to deal with it, rather than calling the front desk themself, because they trust the agent's work.
Millennials, in particular, are eager to outsource the planning and benefit from VIP treatment, the New York Times reported. And 35% of millennials prefer upscale and luxury hotels and resorts, a Resonance report found.
But those millennial clients see luxury differently than past generations, the experts say. While older clients may want more deluxe accommodations, millennials are instead putting that money toward experiences, such as a helicopter ride or a cooking class, Smith explains. To millennials, luxury is about access and diving into different cultures.
Indeed, Karaburun says, for this generation in their mid-twenties to early-forties, experiences and Instagrammable moments matter.
Generally speaking, he notes, millennials care less about the hotel room and more about the public spaces of the hotel and its surroundings. Karaburun describes this generation as 'prosumers' meaning they're not just consumers of information, but they also produce user-generated content. They're sophisticated consumers because they're constantly online reading reviews, researching destinations and talking to their friends about their experiences.
Marketing to millennials and generating Gen Z business
The first step in marketing to millennials and Gen Z, Karaburun says, is using technology such as programs like chatbots for 24/7 availability and virtual reality (VR) during trip planning. Adapting to this technology will build loyalty with millennial customers, he says, because it indicates that the advisor is not only trustworthy and available but also up to date on trends.
"My advice is to use technology," he says. "These are digital natives. The phone is, for them, part of their body."
The classic word-of-mouth referral still matters, too, it just might be more accurately called "word-of-Instagram-message." Smith, for example, sees his younger clientele posting about their trip on social media, which creates a buzz. Then their friends ask how they can do something similar, and they turn into a referral.
In addition to running his own agency, Smith co-founded Millennials in Travel, a career development and networking organization for young, passionate travel industry professionals. The group started nearly a decade ago and has grown to 3,200 members worldwide. The group helped highlight for the industry that millennials travel differently and need to be marketed to differently. Ever on the cutting edge, Millennials in Travel is starting to focus on Gen Z as well.
The global group wants its members to understand that fellow travel advisors are not competitors; they're colleagues. Smith delights in being able to call a colleague to ask about destinations he's not as familiar with, and he's glad to offer his expertise to others as well.
That broad intel is especially useful when young travelers don't have a specific destination in mind. When beginning to plan their last trip, only half of Gen Z travelers already had a specific destination in mind, whereas among Gen X and older travelers, 57­ to 92% already knew where they were headed, according to Phocuswright research. That means travel advisors can play a major role in molding consumer preferences.