DIFFERENCES BETWEEN THE RIVIERA MAYA AND CANCUN
Besides the mere location differences between these two popular vacation spots, Cancun and the cities located in the Riviera Maya are different. In some ways it is hard to believe that they are neighbors except the blue of the Caribbean gives it away. This article digs into the variations of each destination and highlights the not so obvious differences.
WHAT IS CANCUN AND WHAT IS THE RIVIERA MAYA?
Cancun is a large city located at the northeast tip of the Yucatan Peninsula. It was the very first tourism specific destination built in the early 70's. The Riviera Maya is a region to the south of Cancun that starts at Puerto Morelos and ends at the Sian Ka'an Biosphere. In some ways we are comparing apples and oranges – city verses region – but Cancun and the Riviera Maya are compared all the time, if not thought to be the same. When people inform me they thought they were the same, my reply is this "Is Atlantic City and the Jersey Shore the same?" This analogy seems to clear up whatever was unclear. Cancun is a large metropolitan city with a residential population reaching almost one million. The tourism zone, where hotels and entertainment businesses are highly concentrated, is outside the main city center on a small peninsula that surrounds a natural lagoon. Though there are small hotels and vacation rentals in the city center, tourism resides in this area, away from the residential neighborhoods. The Riviera Maya region includes the following popular cities – Puerto Morelos,Playa del Carmen, Puerto Aventuras, Xpu-Ha, Akumal, Soliman's Bay, Tank Ha Bay, Tulum, and the Sian Ka'an located on over 133 kms/88miles of beach coastline. The largest city is Playa del Carmen with 250,000 residents. Tulum is the second largest city with a population of just under 100,000 people. Other cities are small in comparison with populations well under 20,000 people. These geographical differences, and the fact that people compare a city to a region, make both of these areas very, very different. But Cancun the city is different from Riviera Maya cities.
CANCUN AS A DESTINATION – HOW IT WORKS AND WHAT TO EXPECT
Cancun has a national population in its core city with 90% of its tourism happening in a designated beachfront area of the city. This separates every day life from vacation life. It also separates residents from visitors. • The sheer size of Cancun makes it difficult to navigate not only for regional day trips but urban exploring. A taxi, public bus or private driver is a must if you wish to explore outside the hotel zone. Though not impossible, it makes exploring a challenge or a tad bit intimidating to the first time visitor. • When visitors choose to leave their resort or large hotel, they are shuffled to more tourism hot spots in the hotel zone. Very few visitors dive into downtown Cancun to experience the local authenticity of Cancun residential neighborhoods and markets. The 'bubble' is what Cancun staff support when getting people out and about. • With a large percentage of all inclusive resorts, Cancun has gained the reputation of 'Spring Break Haven' where college kids party during the winter months. Cheap resorts, lots of night clubs, and high-end shopping centers have created this atmosphere, but has made Cancun a profitable tourism center. • International brands like Wet and Wild water parks, Hard Rock Cafe, Outback Steak House, MontBlanc, Nike, etc can be found in Cancun to appeal to American and international tourists visiting the hotel zone in Cancun. • Predominately this area is frequented by American and Canadian tourists with a small influx of European and South American visitors.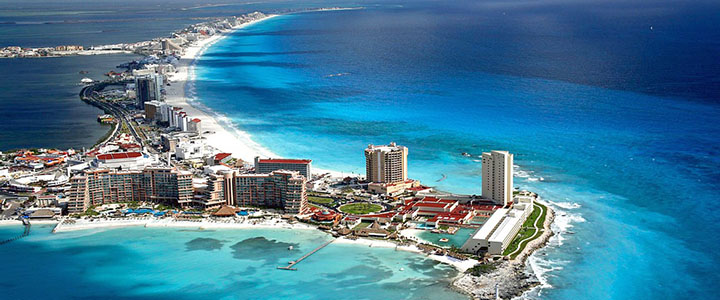 HIGHLIGHTS OF THE RIVIERA MAYA – HOW IT WORKS AND WHAT TO EXPECT
Each city in the Riviera Maya has its own unique feel, tourism base and extraordinary attractions. Developed after the rise of Cancun, these cities are less populated and come with a lifestyle that is focused on the beach and local cenotes. •Tourism is highly diverse with people from around the world visiting local cities. It is not uncommon to hear various European languages, Spanish, and English spoken everywhere by both staff and visitors. Some Riviera Maya cities have a high concentration of US and Canadian residents, Puerto Aventuras and Akumal being known for this. •These cities are less about resorts, which are located outside city centers, and more about small hotels, vacation rentals and in some cases beachfront cottages (cabanas). This is not the hospitality landscape in Cancun. •Most cities are walking cities as they are small and intimate. It is easy for a visitor and locals to walk to restaurants, local attractions, and to the beach. Playa del Carmen has experienced tremendous growth over the past decade but has retained its neighborhood feel in the downtown core. What we do appreciate is the recent addition of arts and cultural activities that Playa did not have just a few years ago. •It is natural that the concentration of tourism is by the beach, with city centers revolving around hotels, shopping and vacation rentals, but residential neighborhoods are closely located if not a part of the hotel and restaurant areas. This urban mix retained a local feel to the cities where visitors and residents mix, happily. This neighborhood feel makes the cities of the Riviera Maya friendlier, more local, and information about where to go and what to do easily exchanged. •Each Riviera Maya city is a stop on the main 307 highway, the only highway that runs along the coast. This main artery connects local attractions to visitors with easy, making exploring a pleasure, inexpensive and really easy to navigate. Most Riviera Maya visitors and locals visit cenotes, other small cities, Mayan ruins, and local cultural attractions with greater flexibility than Cancun visitors.
MIXING UP CANCUN WITH THE RIVIERA MAYA
We understand all too well the differences between Cancun and the Rivera Maya. We also understand the nuances of both locations. What we love is the diversity of the two areas. We live in the Riviera Maya so we can enjoy the ease of exploring, smaller communities, and direct access to the beach. We value the mix of visitors and locals, and love that we can have tacos on one corner and a burger on the other. We also appreciate the benefits of Cancun. Brand name shopping is useful (think Costco or the Apple Store) and in the old days Cancun was the place you had to shop.Back then Riviera Maya cities had maybe one grocery store and food choices were limited. Today that has changed but Cancun still has stores and retail outlets not found in the Riviera Maya. Unfortunately if your travel agent or online booking website is not familiar with the area (which in most cases they are not, many have not even visited the area) you may find yourself in a hotel or resort that doesn't match your dream. We have heard time and again that people feel stuck in Cancun. We talk to people who thought they booked a hotel in Playa del Carmen only to learn it is 20 minutes away and not remotely close to the famous 5th Avenue or near the glorious beaches of Tulum as promised.
TALK TO A LOCAL WHO LIVES IN THE RIVIERA MAYA
If you know what you want for your vacation and would like to investigate the best place for your week off, talk to a local (pointing finger over my head) A local will listen to what you want and quickly point you in the right direction. If you want to hit the nail in the head the first time, talk to someone who knows.
So give us a call. Drop us a line. Ask away and we are happy to give you the lay of the land. And if you choose to come to the area, be sure to let us know so we can meet up for a cocktail and share travel stories! We love to hear how your vacation is panning out and what you think of the area. If you are already booked, contact our concierge who is happy to get you where you want to go, suggest great restaurants and guide you to local attractions worth seeing!
Shared from: 
https://www.locogringo.com/blog/vacation-tips/not-cancun-differences-between-riviera-maya-and-cancun